WHITENING DAY CREAM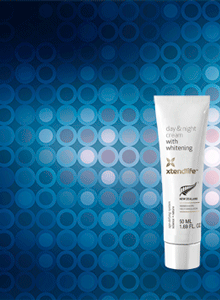 ---
Safely lighten your skin color ... without irritation
A 100% natural way to lighten the color of your skin, without irritating or harming it, like other skin-whitening products do. Whitening Day Cream's unique formula is the answer. It will not only lighten the color of your skin safely but will also give you all the anti-aging benefits of our Active Day Cream!
The key to the lightening effect in this product is a very special extract of Extrapone Nutgrass which naturally inhibits melanin, to gently whiten your skin … as well as making it look younger, smoother and healthier!
---
Use * Safe * Natural * Effective
Whitening Day Cream
After cleansing and drying your face and neck, apply Natural Whitening Day Cream evenly over the area, Gently massage the cream into your skin using an upward and outward motion. Leave 5 to 10 minutes before applying make-up. This allows sufficient time for the active ingredients to penetrate into the skin. It may take up to 3 months to lighten your skin to the desired colour. After reaching the desired colour, you can maintain this by alternating weekly with our Women's Day Cream
Safe & Natural Skin Lightening "This One Really Works."
---